As 2022 comes to a close, here are some Marquette highlights from the past year.
January 2022
Marquette announced its upcoming participation in the Higher Learning Commission accreditation reaffirmation process. The reaffirmation process is an opportunity for Marquette to document the excellent work we do as a university and provides assurance that we are meeting and exceeding the expectations of various constituencies.
Several online graduate programs were ranked in the top 50 by U.S. News and World Report.
February 2022
Four years ago, Mission Week began a journey where we spent a week of each year following a story from the life of the founder of the Society of Jesus, St. Ignatius of Loyola. In 2022, we set our sights on being Open to Possibility.
Shaka Smart, head coach of the men's basketball program, and his wife, Maya, affiliated faculty in the College of Education, made a major gift to help students at Marquette cover emergency expenses. The gift will help support students who experience unanticipated loss or travel emergencies as well as food and safety needs.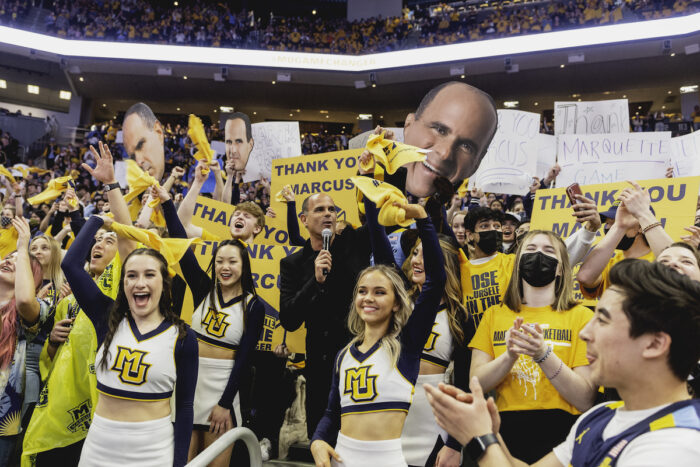 Alumnus Marcus Lemonis, star of HGTV's The Renovator, CNBC's The Profit and chairman and CEO of Camping World, and his wife Bobbi donated a $15 million gift to create the Lemonis Center for Student Success. The Lemonis Center for Student Success will provide wraparound services for students across all majors, academic abilities and backgrounds to enrich and expand student opportunities.
President's Task Force on Community Safety announced
President Lovell announced a Task Force on Community Safety, chaired by Marquette University Police Department Chief Edith Hudson, to develop actionable, lasting solutions. The Task Force, which included students, parents and community partners, has since approved 12 proposals for implementation.
Formed by President Lovell in early 2020, the university seal committee aimed to update the university seal to reflect Marquette's history, tradition and Catholic, Jesuit mission, and more accurately depict the role of the Indigenous nations that guided Father Marquette on his journey.
March 2022
President Lovell announced that the university plans to fully reimagine its Helfaer Tennis Stadium and Recreation Center as a comprehensive Wellness + Recreation facility. It will bring together the campus' fitness and recreation facilities with the Counseling Center and the Marquette University Medical Clinic — student-centric services currently dispersed across campus. Construction will start this month.
Several graduate programs moved up in the U.S. News and World Report 2023 Best Graduate Schools rankings.
Basketball teams take part in postseason play
Helped by ranked victories against Villanova, Illinois, Providence, Seton Hall and Xavier, the men's basketball team made the NCAA Tournament in its first season under Shaka Smart. The women's basketball team made a run to the third round of the WNIT.
Provost Kimo Ah Yun announced that Dr. Tara Baillargeon has been named permanent dean of university libraries. Baillargeon, who has served as acting dean since October 2021, was previously assistant dean for digital scholarship in the libraries.
April 2022
The Marquette community expressed its support for the people of Ukraine, as the war with Russia and subsequent humanitarian crisis there continues.
As vice president for inclusive excellence, Dr. Christine (Chris) Navia leads the Office of Institutional Diversity and Inclusion and plays a key leadership role in weaving diversity, equity and inclusion into the fabric of the university.
May 2022

Two gifts allow Marquette to launch effort to renovate and build addition for new home for College of Nursing
Marquette received $1 million gifts from an alumni couple, Micky and Jennifer Minhas, and an anonymous couple that launched an effort to renovate and build an addition for the new home for the College of Nursing in the heart of campus. The College of Nursing will move to a renovated and expanded David A. Straz, Jr. Hall in 2024.
Mission and Ministry concluded the celebration of the Ignatian Year, marking 500 years since St. Ignatius of Loyola's life-changing "cannonball moment," with events, free food, reflection and giveaways.
Marquette sold an 11-acre parcel of land it purchased in 2014 and 2015, located to the northeast of the Marquette Interchange, to Bear Development who, together with Kacmarcik Enterprises, will develop the area into a vibrant sports and entertainment district.
Marquette and Lac Courte Oreilles Ojibwe University in Hayward, Wisconsin, announced a comprehensive partnership that establishes a clear path for students from the tribal college to attend Marquette, as well as future educational opportunities for students at both institutions.
MUPD's community outreach dog, Blue, arrives on campus
The Marquette University Police Department welcomed Blue, its community outreach dog, to the force. Since then, MUPD's cutest employee has made stops all over campus and has developed quite the following on Instagram.
Building on the Opus College of Engineering's nationally recognized, award-winning leadership development program called Excellence in Leadership, this major gift will establish a new endowed leadership center and director position in the college.
Marquette's 141st Commencement was held on Sunday, May 22, with 1,942 undergraduates, 837 Master's recipients and 76 Ph.D. recipients celebrating at Summerfest's American Family Insurance Amphitheater. Dwyane Wade, a three-time NBA champion, Olympic gold medalist and one of the 75 greatest players in NBA history who led Marquette to the Final Four in 2003, serve as the undergraduate Commencement speaker.
June 2022
Marquette Athletics announced the new Time to Rise: Elevating Excellence in Women's Athletics initiative to champion women's athletics and honor the upcoming 50th anniversary of Title IX. The initiative is focused on growing excellence fund and scholarship support across Marquette's seven NCAA-level women's athletics programs.
Omron Corp. has gifted over $1 million to Marquette to establish the Omron Advanced Automation Lab in the Opus College of Engineering, which will further strengthen the connection between engineering and business by combining innovative industrial automation and robotics technology with supply chain platforms.
July 2022
Near West Side Partners is a nonprofit that, through community-engaged research, strives to revitalize and sustain thriving business and residential corridors across the seven neighborhoods of Milwaukee's Near West Side and make it a great place to live, work, play and stay. Marquette is an anchor institution, alongside Advocate Aurora Health, Harley-Davidson, Molson Coors and Potawatomi Business Development Corp.
The Marquette University Advancement team raised more than $117 million in new gifts and confirmed pledges in fiscal year 2022, surpassing its $90 million FY22 goal.
Marquette co-hosted two statewide primary debates, the U.S. Senate primary and Wisconsin Governor primary, with TMJ4 at the Varsity Theatre. Five Democratic U.S. Senate candidates participated and four Republican gubernatorial candidates participated.
August 2022

Marquette welcomes the Class of 2026
Nearly 2,000 first-year students from 40 states and 15 countries moved into Marquette residence halls this year. The Class of 2026 was the largest first-year class since 2018, 30% of which were students of color, 23% were first-generation college students and 19% were legacy students.
More than 1,100 students from 37 states and 21 countries arrived on campus to pursue graduate and professional degrees in the Graduate School, Graduate School of Management, College of Health Sciences, School of Dentistry and the Marquette Law School.
The Marquette University Law School Poll celebrated 10 years of polling, having released its first survey of Wisconsin voters on Jan. 25, 2012. Over the ensuing decade, the Marquette Law Poll has become recognized across the spectrum as "the gold standard in Wisconsin politics."
The Haggerty Museum of Art and Raynor Memorial Libraries at Marquette partnered to present "J.R.R. Tolkien: The Art of the Manuscript," the foundation of which is Marquette's extensive collection of Tolkien manuscripts housed within the library's Department of Special Collections and University Archives.
Marquette honored the 2002-03 men's basketball team to celebrate 20 years since its memorable trip to the Final Four. As part of the festivities, Dwyane Wade, who served as the undergraduate Commencement speaker in May, gifted blazers to his former teammates, coaches and support staff members featuring images from the 2003 season stitched into the interior.
Faculty in Residence program launched
Marquette is piloting a Faculty in Residence program with the goal of having faculty participants to serve as a clear and visible presence to help deepen integration and a more holistic student experience at Marquette.
September 2022
The university welcomed more than 54 new full-time faculty members at the start of the 2022-23 academic year. To introduce them to the community, the Office of Faculty Affairs compiled Q&As about each faculty member and their goals for their first year on campus.
Marquette was again ranked 83rd among national universities this year in the U.S. News and World Report Best Colleges rankings, which slots the university in the top 20% in the nation. Marquette additionally made the peer-nominated list for Best Undergraduate Teaching, now ranked 12 nationally — up from 58 a year ago.
The robots are coming! Kiwibots, autonomous food delivery robots, began roaming campus this year bringing treats to the Marquette community.
In recognition of their "tremendous leadership to address mental health across Milwaukee and the region," Marquette University Board of Trustees announced they will name the third and fourth floors within the university's planned wellness tower in President Lovell and Amy Lovell's honor.
October 2022
This year marks the 100th anniversary of the formation of the Graduate School at Marquette. Among one of the first Graduate Schools established at a Jesuit university, Marquette's Grad School opened its doors in the fall of 1922.
November 2022
Marquette's newest academic facility opened the doors to its very first residents, as several faculty and staff moved into Dr. E. J. and Margaret O'Brien Hall, the new home for Marquette Business and leadership innovation programs, in November.
Jill Guttormson, Ph.D., MS, RN, took over leadership of the 29th ranked College of Nursing in the nation, according to U.S. News and World Report, putting Marquette in the top 4% nationally among Bachelor of Science in nursing programs.
Research in Action has been a key theme in Beyond Boundaries, the university's strategic plan, and research was identified in 2021 as a Strategic Priority for Marquette. Early in his presidency, President Lovell set an ambitious goal for the university to double its research expenditures — something Marquette is on pace to do.
The 707 Hub, Marquette's cross-campus innovation space, launched in 2017. The 707 Hub is known for a culture of inclusion, where change agents, spirited dreamers and effective doers converge to launch new ideas.
Alumni, parents and friends came together to raise nearly $5 million in six months for the clinic revitalization, which is comprised of 46 new dental operatories.
December 2022
The Evan and Marion Helfaer Foundation has committed a $2 million gift to continue fundraising momentum for a reimagined Wellness + Recreation facility on campus. Construction will move forward later this month.
Volleyball reaches NCAA Tournament Sweet 16
After earning a Big East regular season conference championship, the Marquette volleyball team made a run to the NCAA Tournament Sweet 16 thanks to victories against Ball State and Georgia Tech at the Al McGuire Center. The journey came to an end on Dec. 8 when the Golden Eagles fell in four sets to the tournament's top seed, Texas.