See what was going on and what our Golden Eagles liked during 2022.
A Commencement speech for the ages
NBA legend Dwyane Wade shared inspiring words with the class of 2022: "Through self-awareness, we are given the opportunity to design who we truly want and deserve to be."
A timeless legacy
Marquette took to LinkedIn to remember late Marquette alumnus and beloved comedian Chris Farley on his 58th birthday.
Dwyane Wade announced as undergraduate Commencement speaker
The Marquette community showed their excitement on our social media accounts when three-time NBA champion and Olympic gold medalist Dwyane Wade was announced as the undergraduate commencement speaker for the class of 2022. Wade is one of the 75 greatest players in NBA history and led Marquette to the Final Four in 2003.
Charitable alums
HGTV star and Marquette alumnus Marcus Lemonis and his wife Bobbi announced that they made a generous $15 million transformational gift to launch the Lemonis Center for Student Success at Marquette. The Marquette community took to Instagram to show their gratitude.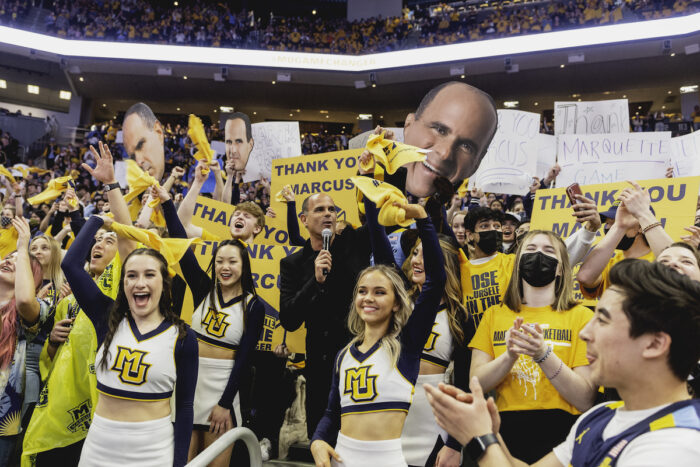 USL Stadium excitement
Marquette announced on all of its socials that an 11-acre parcel of land that they recently sold to Bear Development will be developed into a vibrant sports entertainment district. The central stadium will be home to professional soccer and serve as a competition venue for Marquette men's and women's soccer and lacrosse.
Celebrating the Class of 2022
Of course the Class of 2022 was celebrated on Marquette socials! And in true Marquette fashion will "Go forth and set the world on fire!"
National Marquette Day 2022
Marquette took to Instagram to ask the student body and alumni, "where are you celebrating National Marquette Day?"
#MKEPROUD
The Marquette community loved this breathtaking drone footage showcasing our beautiful campus at sunset.
An Olympic feat
Marquette alumnus Emery Lehman earned bronze in Men's Team Pursuit with his teammates in Beijing at the 2022 Winter Olympics.
Fall vibes
Marquette shared pictures on Instagram of our beautiful campus and students! Do you see anyone you know?
A generous donation
A generous Marquette alumni couple, Micky and Jennifer Minhas, gifted $1 million to launch an effort to build and renovate an addition for the new home for the College of Nursing in the heart of campus.
Happy birthday Milwaukee
Marquette shared this lovely sunset photo to celebrate the city of Milwaukee's 176th Birthday!