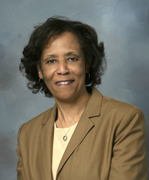 Dr. Doris Walker-Dalhouse, professor of literacy in the Department of Educational Policy and Leadership in the College of Education, has been elected to the Reading Hall of Fame, an independent professional organization that seeks to contribute – from the collective experience of its members – to the ongoing improvement in reading instruction.
Established in 1973, the Reading Hall of Fame currently has about 100 members across the globe. The group inducts new members each year through a comprehensive nomination process.
When nominated, members must be actively involved in the field of literacy for at least 25 years with a well-known and highly respected reputation in the profession. The contributions required of those nominated for membership include the following: authorship of publications including significant research, positions of responsibility in the literacy field and the preparation of leaders in the field through teaching.
Walker-Dalhouse is especially interested in topics of sociocultural aspects of reading, multicultural children's literature, African American children's literacy and refugee children's literacy. She teaches courses on topics of literacy, language arts, children's literature and teaching elementary-level reading.
"Dr. Walker-Dalhouse's election to the Reading Hall of Fame qualifies as a career honor reserved for the most distinguished educators, researchers and organizational leaders in the field of literacy," Dr. Bill Henk, dean of the College of Education, said. "Its members literally represent a Who's Who of the most distinguished figures in our discipline. To be numbered among that elite group, through their selection, amounts to a recognition that the vast majority of literacy professionals can only dream about achieving."
Individuals elected in 2020 will be inducted during the group's annual meeting at the Literacy Research Association's Conference in December.
"It is a high honor for me to have been elected to the Reading Hall of Fame," Walker-Dalhouse said. "I am humbled by the recognition and pleased to be associated with such a distinguished group of scholars whose work has and continues to significantly influence literacy research, instruction, and policy."